Office Hours

: Monday-Thursday from 9am to 3pm
Church Location & Address

: 5084 East Main Street, Maple Plain, MN 55359 (map)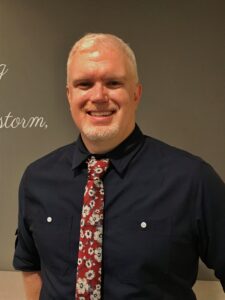 I am thrilled to be at Christ Lutheran Church for the second time. From 2010 to 2015 I served as the Director of Youth and Family ministries at Christ Lutheran before taking a pastor position in Northwest Connecticut. I returned as associate Pastor starting in January 2021. I have been involved in ministry for nearly 20 years, serving churches in North Dakota, Minnesota, and Connecticut as well as spending time as a camp counselor for a few summers while in college.
I grew up in a small town in Eastern North Dakota (Portland) and attended college at NDSU in Fargo where I completed way more calculous classes than any History major ever needs. I just completed my Master of Divinity degree from Lutheran Brethren Seminary in Fergus Falls, MN.
I love Jesus, my amazing wife Anya, and our two sons, Jacob, and Thaddeus. I have a great passion and calling for teaching and shepherding others in their relationship with the Lord.
Some fun facts about me…
Favorite Person of the Bible: John the Baptist and Moses.
Favorite Bible Verse: Ephesians 2:8-10. For it is by grace you have been saved, through faith—and this is not from yourselves, it is the gift of God—not by works, so that no one can boast. For we are God's handiwork, created in Christ Jesus to do good works, which God prepared in advance for us to do.
Favorite Book: Anything by C.S. Lewis. Favorites include "A Horse and His Boy" and "The Screwtape Letters".
Favorite Hobby: I love watching movies, my favorites are Christopher Nolan movies, The Lord of the Rings, and anything Star Wars. I love watching and playing sports, particularly basketball. I also love exploring new places (restaurants, cities, bike trails, furniture stores, etc…) with my wife.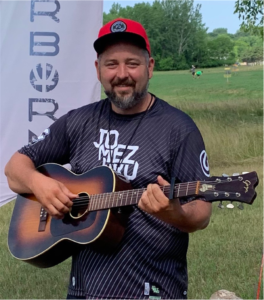 Eric Hutchison – Worship & Music Director
I grew up in the Chicago suburb of Arlington Heights and our family were members at a United Methodist Church in my early years, but I never considered himself a Christian until my early 20's. I have traveled to Switzerland to study at a famous retreat center called L'abri (French for "the Shelter"). This experience was the catalyst for my faith life.
I moved to Portland, OR, where I got involved with a house church. I also met my wife, Ashley, in Portland. After a year there, I returned to college, attending Trinity Lutheran College in the Seattle suburb of Issaquah. Studying the Bible was everything to me, and it led naturally into ministry. Ashley and I had two girls, Anastasia & Bella, before leaving WA to seminary in St. Louis, MO in 2007. Our son , Ezekiel was born in 2009.
In 2011 I became an associate pastor for the LCMS in NYA, MN. I was also full-time worship director. Ashley is a super mom, and works at the high school kitchen. Coda is the newest member of our family – a German Shepherd mix (and my first dog ever!) Around 2018 I began to dream of ways to move out of pastoring, maybe into music or disc golf. Throughout the last decade I have been an avid member of the disc golf community. Wild circumstances allowed me to buy into a disc golf course and company, while at the same time move away from pastoring. All this happened during the Covid-19 crisis.
For me, bringing people together is my passion. Gathering people around the Word to worship is so vital. I believe that Jesus is also more involved in every individual person than we could imagine. I'm very excited to share my love of Jesus through my passion for good music & worship. My family and I are excited to share in the life of Christ Lutheran Church!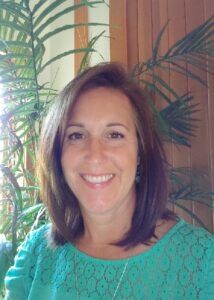 Tami Greenwood
– Office Administrator
I am the administrator here at Christ Lutheran Church. My journey here began in July of 2014. It is such a privilege to be here! I put together our worship folders, newsletters, PowerPoints, assist our accountant and much more.
I have a wonderful, funny, creative, and musically talented husband named Bill. We love being in the great outdoors together biking, cross country skiing, kayaking, and taking our Silver Labrador Buddy on walks. I enjoy singing with Bill and sharing his original music whenever we can. We have seven amazing adult children.
I am so grateful that God uses our struggles in life for His good purpose ~ Romans 8:28. I am passionate about my walk with Jesus, and I want to reflect him in all I do.